FULFILLING THE DREAM OF A LIFE TIME IN BELGIUM
After traveling to Belgium for over twenty years to (1) learn the racing pigeon game from several of Belgium's most successful and competitive fanciers including master fancier Antoine Jacops and to (2) purchase breeding pigeons from Jacops to import to Oklahoma USA, in 2005 Dr. John Lamberton began to fulfill the dream of his life to race pigeons in Belgium and test his unique management and training theories in Belgium by negotiating a partnership with Mr. Jef Cuypers, in Hakendover Belgium.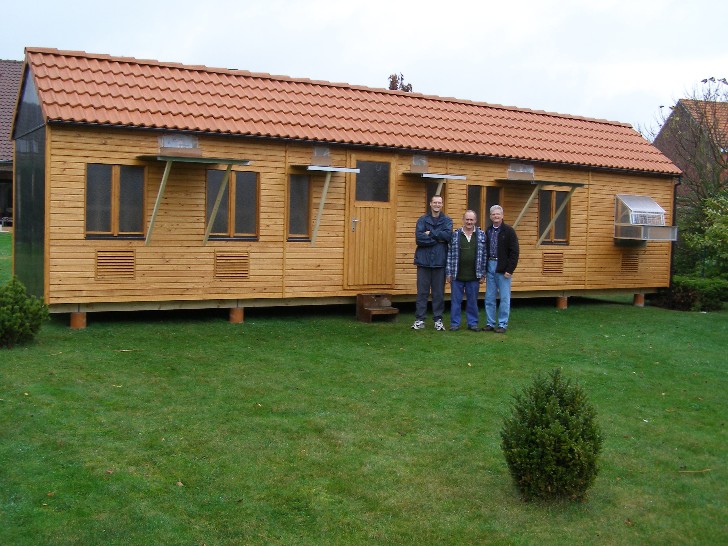 Dr. John Lamberton's New Racing Loft in Hakendover Belgium
built by Belgium's premier loft builder Herman Van Ostaeyen.
Pictured Left to Right: Jef Cuypers, Herman Van Ostaeyen, Dr. John Lamberton
Although Mr. Cuypers raced successfully in his club from a modest loft in his garden (back yard), Dr. Lamberton contracted with Herman Van Ostaeyen, Belgium's premier loft builder, to build a larger state-of-the-art racing loft with a self-cleaning droppings maintenance system. With the assistance of Mr. Filip Herbots, Dr. Lamberton began purchasing a fantastic breeding loft full of superb racing pigeons. First, in the dispersal sale of Roger Florizoone, Dr. Lamberton purchased six of the top ten long distance pigeons in the sale of Belgium's premier long distance fancier. These fantastic pigeons are featured below. Dr. Lamberton also purchased six of the best pigeons in the final dispersal sale of Emile Fourmanoir, one of Belgium's most successful speed specialists who raced in southern Belgium. Dr. Lamberton also purchased several excellent pigeons in the final dispersal sale of Romaine Loozen including MARIA, an excellent 1st Provincial Champion female. Dr. Lamberton also purchased a beautiful Engels female that won 51st National in a prestigious performance sale managed by Jan Hermans. Dr. Lamberton purchased ten super pigeons from Antoine Jacops, Vorselaar Belgium; and Jacops gave him a proven pair of breeders as a present for the first breeding season of Dr. Lamberton's new loft in Belgium. Dr. Lamberton purchased ten excellent young birds from the fantastic loft of femaleri and Danny Van Avondt Dr. Lamberton purchased ten excellent young birds from successful fancier Denis Sapin and twenty excellent long distance youngsters from the very successful long distance partnership of Olivier-Devos. In total, Dr. Lamberton purchased over sixty of the best racing pigeons than can be found in Belgium in order to successfully develop his once-in-a-life time dream of racing pigeons very competitively in Belgium.
Dr. Lamberton's Florizoone pigeons were so spectacular that the infamous Belgian fancier, Mr. Jos Deno, approached Lamberton about breeding his six Florizoone supers to six super middle and long distance breeders of Deno. Lamberton agreed to the partnership offer with Deno; and Deno and Lamberton split four rounds of incredible young birds bred from their fantastic breeders. Since Jos Deno is a partner of the Herbots, the Herbots have also benefited from the quality and availability of Dr. Lamberton's excellent Florizoone breeders. Dr. Lamberton also gave a fantastic youngster to the partnership of Oliviers-Devos upon their request. It seems as though the Lamberton Florizoone pigeons have made a very positive influence on several of the best middle and long distance specialists in Belgium.
In 2006, the first full breeding season of the Lamberton racing loft in Belgium, Lamberton pigeons won national awards racing in the top 100 pigeons and pigeons winning top Provincial honors racing as Cuypers-Lamberton. Cuypers-Lamberton also won 1st and 2nd Champion Loft in several clubs in the Brabant Province. How did this instant success happen so quickly? After building the new racing loft and filling it with superb breeders and racers, Dr. Lamberton traveled to Belgium in the summer of 2006 and organized the young bird team based upon his unique training and racing management system while Mr. Jef Cuypers and his family were on a holiday (vacation). For about three weeks - working many hours in the loft by himself - Lamberton selected a high-quality race team of young birds, paired the young birds to old birds, and trained the young bird race team using his unique management system. Within several weeks, the young bird team was ready to race. Mr. Cuyper's father-in-law, Roger Lautermans, was markedly surprised and very impressed with the superb conditioning of the young bird race team when he examined the young birds after he drove Dr. Lamberton to the local club house. Lamberton raced the young bird team completely on his own for the first two races winning both of them. Lamberton was finally living his dream. After Lamberton's young pigeons won the second race of the season and scored in the top ten positions when combined with yearlings and old birds, an older fancier in the club left his table of established Belgian fanciers and informed Lamberton that members of the Belgian club with whom he was sitting considered him to be the "Lance Armstrong" of the racing pigeon Sport in Belgium because of the instant dominant success of Lamberton's race team. To this day, Dr. Lamberton considers this fancier's comments to him to be one of the finest moments of his life racing pigeons.
Sadly, based upon Dr. Lamberton's chronic health concerns over the past three years which prevented Lamberton from traveling to Belgium to train the young bird and old bird race teams, Dr. Lamberton and Mr. Jef Cuypers mutually agreed to terminate their Lamberton-Cuypers partnership in 2010. Mr. Cuypers now owns the Lamberton pigeons and loft. Dr. Lamberton wishes Mr. Cuypers continued success as he now competes under the Jef Cuypers moniker.
BREEDERS IN BELGIUM